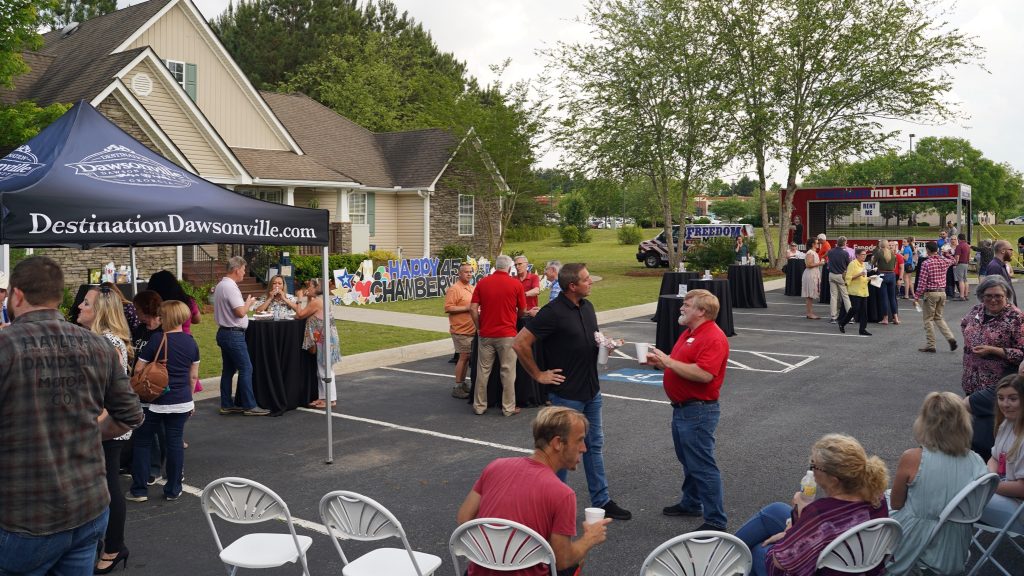 Dawson County Chamber of Commerce is committed to the success of our community. The emphasis is on promoting, assisting, and encouraging the development of Dawson County's economic, social, educational, and environmental health and well-being. The Chamber's benefits, programs, and sponsorship packages are designed to help our business members prosper. Helping your business grow and succeed is a major part of what the Dawson County Chamber of Commerce is all about.
Ready to join?
Join online today or give us a call with any questions.
Savannah Garrick, Membership Director
Involvement: Get Better Connected
Education: Get In the Know
Advocacy: Get Problems Solved
Marketing: Get More Visibility
Did you know that most consumers  think that being active in the local chamber of commerce is an effective business strategy overall? Your investment in the Chamber of Commerce is an investment in your business and in our community.
Membership Benefits Include:
Professional Development & Networking
Establish business relationships at networking events held monthly
Receive invitations to Chamber events at special member pricing
Access to  networking events such as Business After Hours, and Business Luncheons held monthly
Access to member knowledge meeting
Credibility
Display your membership sticker at your business and place a members badge on your web-site
Include the Chamber logo on your materials
Be a part of our on-line and printed membership directory
Visibility & Recognition
Increase business exposure through an enhanced business listing on dawsonchamber.org with a direct link to your website
Share your company events on our events calendar
Celebrate grand openings & ribbon cuttings
Get referrals by attending our many events or inquires received by the Chamber
Information & Resources
Stay informed of Chamber events and news through our weekly e-newsletter and quarterly mailed newsletter
Access information on how you can grow your business
Advocacy
Benefit from a unified voice advocating for business-friendly legislation on the local level
Meet and network with elected officials during events
Savings
Save on Worker's Compensation Insurance
Free Drugs Don't Work Program available to members
Health Insurance Savings
Offer and take advantage of member-to-member discounts
Engagement Strategy
Recognizing the role engagement plays in member retention, improved engagement is a top priority for our Chamber.
We provide new members with an Ignite program and starter package to encourage new and existing members to take advantage of member benefits available to them. The 1 hour meeting and packet includes information needed to get started with updating the members page on the Chamber directory, ongoing events, and ways to get involved in the Chamber and community.
The Chamber's goal is to ensure that members are engaged from the moment they join by increasing awareness of chamber happenings.
The engagement strategy is a relatively simple way to provide a pathway for members to get involved with chamber events and highlight the networking and online marketing benefits of membership. We encourage all our members to review the packet and utilize the benefits the Chamber has to offer.
If you would like to request a membership packet please contact our Membership Director, at 706-265-6278.
Your Chamber of Commerce is here to serve you. Learn about the benefits of becoming a chamber member, and how to join.
Civic Participation – We are present at various city and county meetings to help keep you aware of "what's going on" in our town.
Business Referral – We refer your business to any person calling or visiting the Chamber seeking your type of product or service.  We refer only Chamber Members.
E-mail "Blasts" – We send weekly blasts and will include events or announcements on behalf of your company to our entire Chamber e-mail list.
Calendar – We maintain a web-based calendar of events on which to post your event.
Newsletter – Published and mailed quarterly to keep you informed on subjects of interest to the business community.
Business Referral Directory – Your Company will be listed in our business referral and membership directory, under multiple categories when appropriate.
Relocation Guide – Your company and important information will be listed in our relocation guide, under multiple categories when appropriate.
Brochure Rack – Maintained in the Chamber office to prominently display and distribute your company information.
Website Listing – Your business will be listed on our website under "business directory" and includes a link to your website.
Monthly Business After Hours – An opportunity for you to meet other members of the business community to meet and talk in a social setting.  Ask about hosting a Business After Hours of your own.
Business Luncheon - Held the second Thursday of each month. This is an opportunity to have lunch with your peers and listen to an informative speaker.
Meeting Facility – Meeting room and conference table in our office available to our members at no charge. (maximum capacity is 25)
Want to become a member? Join today.