Welcome to the
Dawson County Chamber of Commerce,
the voice of business in Dawsonville and Dawson County, Georgia.

About Us
With a history of more than 45 years of experience in serving our community, the Dawson County Chamber of Commerce is the premier business organization for our area. Committed to our mission of "cultivating a successful economic environment and a desirable quality of life for our businesses and community," we provide programming, benefits, and opportunities that enable our members to thrive. We are proud of the more than 500 members that make up our Chamber and who are an integral part of our dynamic community.
Whether you are a resident, business owner, or looking to relocate in Dawson County, the Dawson County Chamber is sure you will share our passion for a vibrant and prosperous community to live, work, and play.
What our Members are saying...
"When I first started as a self-employed insurance agent, it was suggested to me that I join the Chamber. Believe me, joining the Chamber was the best business decision I have made in my 17-year career. I remain active and involved because no other organization offers the opportunity to have personal contact with business owners, employees and individuals. Joining the Chamber not only gets you started in a positive direction, but it also helps you grow as a business owner in more ways than you can imagine."
—Sharon Hall, Aflac Insurance
Being a Chamber member has allowed me to feel as part of the community, not just a resident. I have been able to help others, give to others, and grow as a leader. It has given me more exposure to the community and the opportunity to meet other business owners and individuals I would not have otherwise met. ~ Ryan Scott, State Farm Insurance
When I decided to take the leap of faith and get my real estate license, my first organization to join was the Dawson County Chamber of Commerce. I was embraced and supported by them. he networking programs with the Chamber expanded my knowledge of our county and allowed me to meet other like-minded entrepreneurs. We are blessed with one of the best Chambers in the state of Georgia. ~ Karmen Pharris, Palmer House Properties
The Chamber has been and integral part of my becoming recognized in Dawsonville. Their functions are wonderful get-togethers with people I've come to know and love. I'm so thankful to the Chamber for all they do for large and small businesses alike. ~ Sue Gantick, Salt Med Spa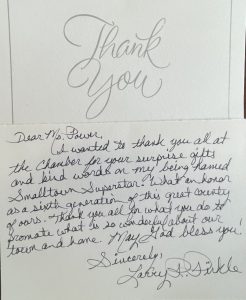 Cultivating a successful economic environment and a desirable quality of life for our businesses and community