Networking with the Chamber
Being a member of the Dawson County Chamber of Commerce has many great values. The increased exposure and marketing opportunities are easy to see but appreciating the benefits of networking is more complicated. You may be thinking "I already have an established business with a good customer base – how can socializing help me?" The answer to this is that networking can gain you referrals and brand awareness and can provide knowledge and ideas to improve your business.
From sharpening your listening skills to using social media, there are a variety of ways to network yourself and your business successfully.
As a busy small business owner who wears many hats, you might not prioritize the chance to mingle at networking events. However, experts say that expanding your professional network can be one of the most important things you can do for your business.
Networking helps businesses stay ahead of the curve by exposing them to leadership, best practices, upcoming trends and insight into how other small businesses may be approaching similar issues.  It gives other business owners the opportunity to learn about your business in a positive way and can help your business grow.
How Can the Dawson County Chamber Help Me Network?
The Chamber works to promote our area and its businesses, but we are also available to help you make the most of networking. Follow the Chamber on Facebook and Instagram to see what other businesses are up to and start conversations with your neighbors. Participate in a special event to meet other business owners and unite for a common cause. Attend Chamber meetings and networking sessions to form valuable connections with people who understand your drive. It is only by working together that we can ensure the success of our great community!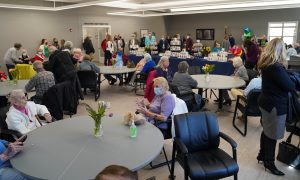 No one is great at everything, right? As business owners, we are constantly striving to learn and understand all of the behind the scenes aspects. You are the expert in your field, but are you an effective marketer? Do you understand the technical details of your computer? How well do you follow new tax rules that affect your profits?
Networking with fellow Chamber members can provide insight and information to make your business run smoother and even save you money. And every business owner has valuable knowledge to share. By recognizing that your neighbors have the same drive and ambitions as yourself, you can work together to achieve these shared goals.
Eggs & the Economy
Frank Norton Jr. presents the economic forecast focusing on developing a game plan for the upcoming year.
Ignite New Members Chamber 101
Meeting for new members that discusses Chamber structure, events, community involvement, member benefits and resources. Learn to use Chamber Master and more while getting to know some of your local government leaders.
Successful Connections: Chamber 102
Topics include: How to be activate networking in the Chamber. Reviewing various ways members can engage with the Chamber to ensure they are capitalizing on their membership